Georges Enescu's only opera accompanied him for more than twenty years. Oedipe is a 20th century masterpiece. First performed at the Palais Garnier in 1936, it returns to the Paris Opera after an absence of eighty-five years, under the baton of Ingo Metzmacher, who speaks passionately about this music rich in French influences and yet truly unique.
---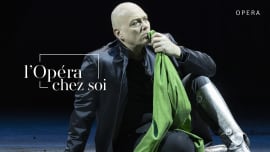 Œdipe by Georges Enesco on l'Opéra chez soi

For his Paris Opera debut, Wajdi Mouawad evokes the life of OEdipus – the man unaware of his own identity...
---