Figaro and Alban are class-mates. At first glance, they seem an unlikely pair: one of them is popular and a charmer, the other timid and reserved. But if Alban can help Figaro to boost his marks in mathematics, Figaro can certainly help Alban to attract a young girl. The beautiful Rosina from The Barber of Seville lives again in an amusing transposition of this romantic comedy of manners from Stéphanie Hochet's pen. Against a backdrop of social determinism and gender issues, the author reveals the truth about amorous passion: who are we when we are in love?
---
Figaro and Alban have known each other since Year 8, but have not been the best of friends. At the age of 16, they find themselves in the same class, in the sixth form at the Lycée Ronsard in Paris. At first glance, they don't seem to have much in common. Figaro is easy to approach, friendly, solidly built, whereas Alban is tall and skinny and rather reserved. Figaro comes to school dressed in a leather jacket and always wears the same pair of faded, frayed jeans, Alban is often dressed in Ralph Lauren shirts and well-cut jackets. Not surprisingly, the two boys come from very different backgrounds. Figaro proclaims his working-class origins with thoroughly communist pride, whilst Alban prefers to avoid mentioning that he lives in 162m2 in the 16th arrondissement and that, yes, the ring on his finger really is a signet ring inherited from his grandfather on which you can see the family coat of arms: two cats hérissonnés. Alban isn't stupid, he has noticed that his social background does not go down well at the lycée where a streetwise swagger is more appreciated.
However, at the start of the new school year, things change. The simple fact of being in the same class lead Alban and Figaro to talk to each other more than before. Figaro realises little by little that Alban could be useful to him for his maths homework. The latter is clearly the best in the class in this domain. Figaro struggles to get even mediocre results. Alban has had private coaching. Figaro is lucky to have a mother who encourages him to study. Naturally, the boy cheats. He's in the habit of sitting next to Alban during maths tests, so as to "check" his answers against those of his friend. Figaro's marks improve. Alban is more flattered at having attracted a boy as popular as Figaro than ruffled by his uncouthness. Alban has almost no friends at the lycée. His circle is that of his riding club in Vincennes. He has never managed to render himself likeable at school.
The two boys become friends. Even if neither of them are taken in by the self-interested nature of their friendship.
Little by little, Alban loses his rigid side and talks more easily to Figaro. The latter is amused by his new friend's awkward manners and teases him gently.
At the start of winter, during a history lesson, Alban summons up his courage and asks Figaro,
"Are you seeing anyone at the moment?"
"Yes."
"That suits me", says Alban.
Figaro looks at him half-surprised, half-amused.
"Explain."
"I've fallen in love and I'd like you to help me."
"Can't you manage on your own?" asks Figaro, whose flirtations are
numerous and notorious."
"It's complicated. She's already going out with someone. With the worst sort of idiot."
"Who is she?"
"She's called Rosina, she's the prettiest girl I've ever seen in my life. I noticed her a month ago and I discovered her affair with that cretin Flavian two weeks ago. It's breaking my heart. I can't sleep anymore."
Figaro looks at Alban's face. Under his eyes, purple shadows indicate that he is not lying. What an odd guy, this Alban. Figaro suspects that he is utterly gauche with women.
"I'll see what I can do to help you. Flavien has weaknesses that I'm well aware of. And he's very naïve."
"I'll owe you one!"
Figaro goes out with whoever he wants. His charm operates very quickly and his reputation as popular (cool, outgoing with girls, insolent with teachers, wholeheartedly anarchist and very nice to look at) precedes him and flatters his listeners. When Flavien sees him coming towards him during break, he's surprised but smiles irrepressibly.
"How are you, mate?"
"Good, and you?"
"I'm organising a drink with some mates in this cool bar on Friday, d'you fancy coming?"
"Why not! I'll come with Rosina."
"Come on your own, it's guys only. We'll discuss the talent. I'll bring some cognac and you can tell me what you think of it."
Flavien is a bit disconcerted by this invitation. He finds the idea strange but nothing is really that surprising when it comes from Figaro, a guy who looks like a rock star and even intimidates some of the teachers – rumour has it that Figaro has had an affair with a biology teacher.
Flavien has been going out with Rosina for just over a month. Recently, they've been so close that neither can do anything without the other. Flavien, who has always been independent and a bit fickle, is delighted by this night out with the lads. Rosina will understand, she's an intelligent girl.
At that precise moment, Rosina crosses the playground to join him. This slight little figure with green eyes and red hair easily elicits desire and love amongst the boys. She's as vivacious as wildfire, cheerful as a chaffinch, fragile as a rose petal and as timid as a Renaissance virgin. She looks at Flavien with an expression that there's no mistaking.
"How can she be in love with that buffoon?" muses Figaro. "We'll soon remedy this."
She asks Flavien:
"Are we seeing each other Friday?"
"No, I'm busy already."
"The day after then?"
"If I can, I'll ring you," he says, looking at the screen of his I-phone. Surprised, the young girl walks off.
"Charming but a bit clinging, you know what it's like," says Flavien to Figaro.
"Tell me about it," replies Figaro, repressing a desire to slap him. It'll do you good to go out without her, especially as I want to introduce you to someone."
Figaro explains his plan to Alban:
"Friday evening, you'll be called Alma. You're going to show off that slim waist that all the girls envy. I'll bring dresses and some makeup."
"Shall I borrow one of my mother's wigs?"
"Yes, that's a great idea. You've got to entangle Flavien in your web. And I'll be there to take beautiful photos."
Alban bursts out laughing.
"And supposing he recognises me?"
"Only a girl would be smart enough for that."
The disguise is a success: Alban looks in the mirror with entranced stupefaction.
"Ah, you laugh to see yourself looking so beautiful in this mirror?" says Figaro. "If I didn't know better, I'd chat you up."
"What a shame you do know."
The two boys go off to the Peacock, Figaro's headquarters. Their entrance causes a stir. Everybody is staring at the beautiful stranger.
"Introduce me then," Flavien asks Figaro.
"Alma, this is Flavien. Flavien, this is Alma."
"How come we've never met before?"
In an assumed voice, Alma replies, her eyes lowered,
"If you only knew how many times I've seen you without you noticing me."
That was all it took for Flavien to fall for Alma.
"Let's put that right straightaway!"
"Here's to your meeting!" Figaro intervenes.
The boys down their glasses of cognac in one.
"For a slender miss, you can hold your drink!"
"I can hold other things even better."
Figaro looks away abruptly to stifle a laugh.
"I get the impression you don't need me anymore. I'll leave you, I see Jérôme is out of cognac."
"Why do I feel like it's the first time?" asks Flavien.
"Because it is."
"It's incredible."
"It's the first time that I can feel the magic that I inspire. Until now, I've just been a bystander."
"Why me?"
"I've been obsessed with you for so long."
"Well, go on! Are we at the same college?"
"I've been seeing you in the street ever since I was ten."
Flavien's mouth feels dry and his temples are on fire. He grabs the young girl's wrist in a movement of desire.
"I've got to see you alone. Quickly!"
Alma brings her lips towards Flavien's, not without having checked that Figaro was photographing them with his cell-phone. The kiss is only the more spectacular as a result. Then, Alma is gone without a word of explanation. Flavien joins Figaro.
"You were right. I've never met a girl like that before."
During break, Figaro joins Rosina with a pained expression on his face.
"Are you the one going out with Flavien?"
"Has something happened to him?"
"You could put it like that, yes."
He shows her the photos.
"It was on Friday night."
"But who is that girl?!"
"Ask Flavien."
"I've too much pride for that."
"You're quite right. You're worth better than him."
"Don't judge him too quickly. His dad's in prison, he lacks guidance."
"In prison? Yeah right, his father is a stockbroker in Neuilly."
"I don't believe you. He talks about the prison every day."
Figaro takes out Paris Match from his jacket.
"See what lovely receptions they have in prison. Champagne no less."
The young girl takes the magazine from him.
"And Flavien's there as well!"
"You see it's not the first time he's lied."
"I never want to see him again."
"I can't invite you to embassy receptions, but what do you say to a beer in the bar on the corner?"
"You're nice."
Alban joins Figaro.
"Nothing's turning out as I planned. Rosina doesn't interest me anymore. All I can think about is Flavien. I don't want to be anyone but Alma."
"That's up to you. I'll make you up whenever you like."
"Teach me how to do it instead."
At the Tiercé café, Figaro explains to Rosina the charm of Picon liqueur with bitter. She bursts out laughing and lets herself be kissed.
"You know, I saw Flavien with his new girlfriend and I'm not at all jealous."
"Much good may it do him, and much good may it do you."
"She's weird, that girl. Personally, I find her touching. I'd never seen her before."
"She looks like a drag-queen."
"Figaro! I forbid you to saying anything bad about transvestites. It's not worthy of you."
"Don't forget that I'm only a working class lover."
"That's the least of your qualities."
They kiss languorously in front of all the other Tiercé customers.
---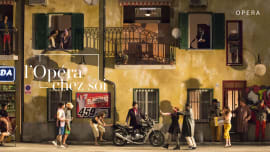 Il Barbiere di Siviglia by Gioacchino Rossini
The composer's opera buffa transcends the spirit of Beaumarchais' comedy and combines the absurd with a touch of satirical realism in a score where rhythm and virtuosity place the comic effects in an ongoing dramatic narration. ...