Mozart's last opera can be seen as a marvellous tale for children or as an ardent meditation on human existence. A prince from a far-off land on a quest to find a slightly suicidal princess encounters a giant snake and a swaggering bird catcher, the Queen of the Night and a mysterious High Priest imposing strange rites of passage… Drawing inspiration from the words of the composer in a letter to his father, the director Robert Carsen provides an elegant and sober Magic Flute, a dark jewel that conquers Death and makes it "our best friend", – a source of reassurance and consolation.  
---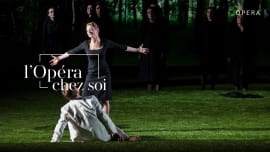 The Magic Flute by Wolfgang Amadeus Mozart
Mozart's last opera is a dazzling extravaganza that takes the form of an initiatory tale.
---