Could there be a greater homage to the inventor of magic realism in literature than to make him the principal character of an opera in which all resemblance to reality is abolished in favour of an imaginary world with its own rules? In this work by Offenbach, Hoffmann, an ill-fated poet and composer, evokes his past love affairs and leads us through a universe in which dream and reality intermingle. Director Robert Carsen plays masterfully with this play within a play and his spectacular mise en abyme takes us behind the scenes of opera.  
---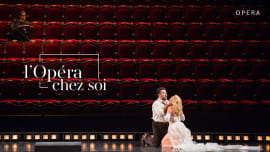 Les Contes d'Hoffmann by Jacques Offenbach
Under the baton of Philippe Jordan, Stéphanie d'Oustrac, Ermonela Jaho, Kate Aldrich, Yann Beuron and Ramón Vargas , interpret the legendary airs of this work whose brilliant mystery will continue to dazzle opera houses for countless years to come.