La dessinatrice Anouk Ricard exprime son regard décalé sur Le Lac des cygnes.
---
Auteure de bandes-dessinées, Anouk Ricard développe un style personnel faussement naïf, où le décalage entre le texte et l'image fait naître un sentiment d'absurde irrésistible.
Parmi ses publications récentes, citons
Anna et Froga
(2004), une série qui sera nommée trois fois à Angoulême,
Coucous Bouzon
(2011) ou encore
Faits divers
(2012). Elle collabore avec Arte.tv, Le Monde.fr et Telerama.fr.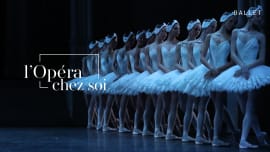 Swan Lake by Rudolf Nureyev
Drawing on ancient Slavic and Norse mythology where destiny is often born out of the mysterious forces of nature, Swan Lake has become a legend in its own right...