Carmen is on the bill at Opera Bastille in a production directed by Calisto Bieito that has already been all round the world. If he is primarily a man of the theatre who expresses himself through eminently visual means, the Spaniard has never made a mystery of the importance of cinematic inspiration in his quest for a contemporary transposition of the works he tackles. Journalist at Bande à part and cinema expert Jo Fishley has made a carbon-14 analysis of the cinematic imprint on this director: a labyrinth in which one encounters the names of Emir Kusturica, Pedro Almodovar, Quentin Tarantino, Christopher Nolan …
---
Calixto Bieito, ardent film lover, is in cinema. To be precise, his theatrical art negotiates with the neighbouring art of cinema. Although he does not proceed using purely cinematic technique, he orbits round it in quasi-identification. He has more than mere affinities with cinema: formal convergences, explicit influences and particular correspondences. He sets in motion a dramatized textualisation of images creating series of sequence shots like so many visual fictions that amplify, with their own narrative and their autonomous dramatic energy, the unfolding of the plot. He does not illustrate the libretto, he takes it over, interprets it, projects it, demiurgus, into his imaginary world, his own visions, a disenchanted view of the world, a film noir nihilism reflecting his own pessimism, his preoccupations and his fears. Every story in Calixto Bieito's opera productions tells another, inserted into the same dramatic space.
In an ageless Mercedes, the Bohemians of Carmen seem to have walked straight out of Kusturica's Time of the Gypsies, whilst the heroines, plastered with make up, advance in devastatingly seductive skirts and dresses, - pure sexual objects, objects of desire, of fantasies: vulgar, provocative, free. We recognise them, these women, they are the sisters of the post-Franco era cinema of Almodovar, his cinema of La Movida Madrileña (the Madrilenian Movement), peopled with frivolous creatures, kitsch and eccentric. Carmen is not a work of good taste: it flouts taboos, as does early Almodovar, turning them head over heels and breaking free from them with brio and scandal, devoid of modesty. We recognise the labyrinth of passions, their violence and pain, in essential motifs; we see the harsh law of desire in operation, - a law the work of Bieito's compatriot long exhibited with full-frontal realism, until he gradually abandoned not so much the body as sex and its exhibition, slipping towards a more serious and less excessive melodrama, more gracious and more fragile – Les Amants passagers, a minor comedy of manners, offering a light-hearted parenthesis.
Calixto Bieito - "the Pedro Almodovar of opera"? Not without truth, but it is also more complicated than that. The cinema of the Spanish film director has little by little expurgated its trash dimension, relegating its indefinable characters, the transvestites, homosexual assassins and lesbian charwomen, to the margins. The man from La Mancha has got rid of his punk post-Franco side, displaying a more prudent style, without abandoning imagination. The same cannot be said of Bieito: his prolific yet extremely coherent output has always preserved its tension, its radicality, producing paroxysmal, visceral and disturbing works.
This tragic staging of the passions of Carmen is not an isolated case: each of his productions produces a shock. Violence and sex are in the forefront. Each of his works, in its own way, reflects the brutality of the world. There is something obscene in his Madame Butterfly, transformed into a tragedy on sexual consumerism and sexual tourism. To provoke is to think and make others think, according to Calixto Bieito. There is horrific violence in the vertical labyrinth of his Fidelio, revealing the influence, not of Almodovar, but of Orson Welles (The Trial), Vincenzo Natali (Cube), and Borges with his idea of an endless labyrinth, from which there is no escape. Fernando, in Fidelio is made up like the Joker in Christopher Nolan's The Dark Knight. There is desolation and horror in his production of Parsifal, inspired by Cormac McCarthy's The Road, and set in a post-apocalyptic America of ash and ruins, vestiges of a collapsed world, of a defunct civilisation haunted by survivors faced with a religious void, and no promise of salvation in the next world. There is highly contemporary economic horror in his Turandot, which dismembers dolls in a factory in modern-day China.
With this work, - a comment on the world, its contemporary tragedy, its vices, - Calixto Bieito uses opera and its subverted classics as a battleground for the human struggles of our time, a battleground unrestrained by any boundary. Everything happens, everything is there with an extreme violence, as in the cinema of Quentin Tarantino with his effusions of blood, as in his savage and deliquescent Don Giovanni with its alienated youth. Death is everywhere in the work of Calixto Bieito. Death, and therefore also life.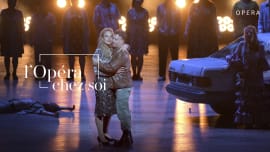 Carmen by Georges Bizet
Calixto Bieito offers the opera a new universe in a production that drives the characters into the darkest corners of their psyches...