After the international success of The Seasons' Canon in 2016, Canadian choreographer Crystal Pite is back to the Palais Garnier with a new creation. A ballet where more than 40 dancers are gathered on stage, guided by actress Marina Hands' voice whose stage directions are transformed into body language and movements. Alternating groups and duets, Crystal Pite dives once more into the concept of individuality, challenging even the Garnier, a theatre house impregnated with history and possibilities. 
---
L'Opéra chez soi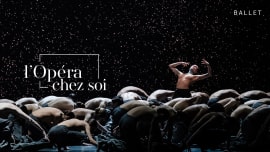 Soirée Thierrée / Shechter / Pérez / Pite
Four contemporary choreographers come together for a programme that leads the Opera's dancers to a new form of modernity where bodies vibrate with intensity.