From its creation at the Bolshoi Theatre in 1877 to Rudolf Nureyev's version for the Paris Opera Ballet in 1984, Pyotr Ilyich Tchaikovsky's Swan Lake has undergone various interpretations whilst losing none of its splendour. A poetic dream, the story of an impossible love between an earthly prince and a bird-princess, this timeless work extends the dream beyond dance, probing the human depths and the power of the imagination.
---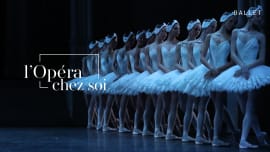 Swan Lake by Rudolf Nureyev
Drawing on ancient Slavic and Norse mythology where destiny is often born out of the mysterious forces of nature, Swan Lake has become a legend in its own right...